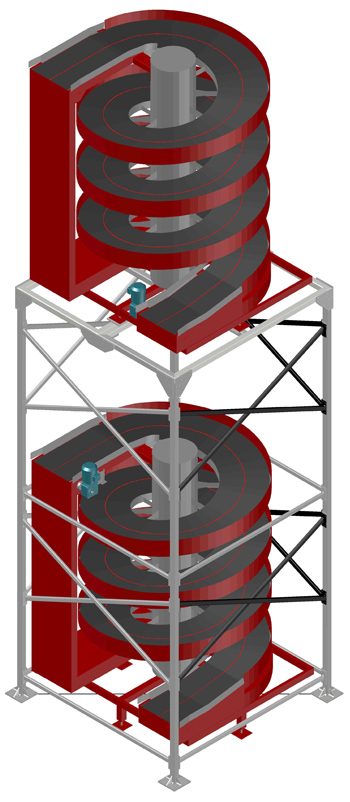 Double Stacked Spirals: Next week, we'll be shipping four spiral conveyors to a manufacturer of power tools for our Integrator Partner, Intelligrated.
The project includes two stacked spirals on top of each other. One spiral sits on the floor and elevates cases from the first level to the second level of a picking system. The upper spiral is mounted on a platform that straddles the lower spiral and brings cases down from the fourth level (32'-6") to the third level.
This system is handling cases that weigh up to 75 lbs. at speeds of 150 feet per minute. Like our spirals, the support structure is modular, allowing it to be transported to the site in smaller panel sections for ease of handling and installation.
The spirals specified on the project are our 1800-650 and will be shipped on a step-deck flatbed to allow them to be shipped pre-assembled – which greatly reduces installation time.
For more information on Ryson Spiral Conveyors, and how they can be used in an order picking or warehousing application, visit www.ryson.com.