Ryson encourages a customer site visit – it is a perfect opportunity to do factory acceptance test and maintenance training.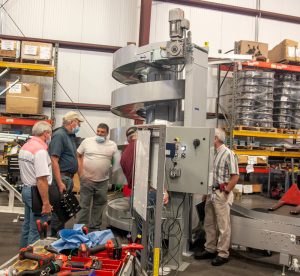 This week, we welcomed a team from a major snack food manufacturer to our plant. We conducted a Factory Acceptance Test, and provided training and familiarization of the spiral to the customer. The visitors included members of their engineering and maintenance teams.
These spirals will then ship and be installed on-site. This project highlights a huge spiral selling point, because they will be replacing existing case elevators. When compared to case elevators, Ryson spirals have a constant flow and have fewer moving parts. This makes them much more efficient and dependable. Over the scope of the project, several case elevators will be replaced by our higher throughput and more reliable spiral conveyors.
This story also highlights that this was our first in-person visit from a customer since the start of Covid. Even though we have done many virtual, and video FAT's, it was nice to be able to do this in person. Customer visits and factory acceptance tests are encouraged. We also take every opportunity to do preventative maintenance training. For more information, check out our Parts and Service page, or read more customer training stories on our weekly blog.