Custom Spiral Design for Challenging Installations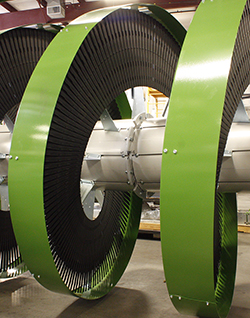 Shipping this week is a 23′ tall spiral with special provisions to facilitate a challenging intallation at a major airline. The Ryson Vertical Spiral will lower totes from the second level to the first floor through a small floor penetration. The spiral is equipped with a removable top section allowing the riggers to stand up the spiral on the ground floor and then hoist the top section through the second floor penetration.
This is another example of the Ryson modular spiral conveyor design allowing for custom situations to minimize installation time and cost. The integrator on this project is Matrix Material Handling.