Custom spiral configuration is possible with Ryson's modular design, and can help solve many tight layout challenges.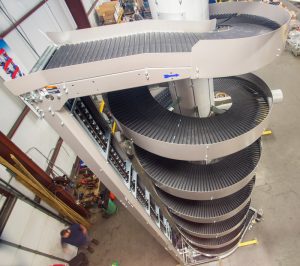 This week, this spiral shipped to a confectionary manufacturer for our Integrator Partner, NCC Automated Systems. The model 1600-500 down spiral is almost 25 feet tall and will handle full cases on it's 20" wide slat surface.
We have the ability to modify the infeed or outfeed tangent on our spirals to help our integrators place the spirals in restricted locations or tight layouts. Our modularity makes these custom angles very easy to engineer, and can simplify challenging layouts.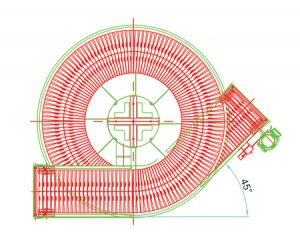 Central the design is our proprietary slat-type belts with rolling friction and without any sliding movements or wear-strips. This allows a load carrying capacity of up to 75 lbs. per linear foot and is the main reason we can produce tall spirals utilizing only one motor. Our High Capacity models can double the weight capacity, up to 3600 lbs of load. This enables the spiral conveyors to start and stop fully loaded and facilitates high speed, low noise and long life.
Read more information on Ryson Case Spirals, download the spec sheet, or read more custom spiral configuration stories on our weekly news blog.