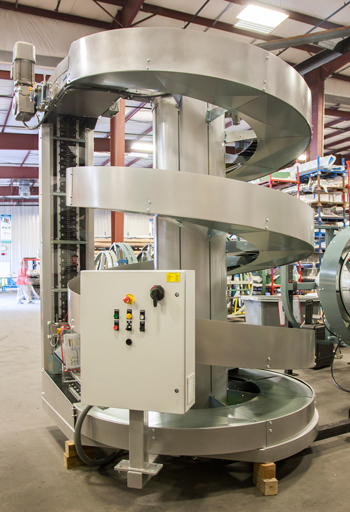 Custom Prewiring: Ryson Spirals are customizable. Height, slat width, speed, angle and direction are unique to each spiral. We offer additional optional features including making the unit reversible, powered transition rollers and controls and custom prewiring.
Today we shipped a model 1500-400 case-handling spiral to a repeat customer. The mounting of it's control panel on this spiral is unique. The food manufacturing company wanted the control panel mounted on the base frame so that they would not have to clean around the panel. The control panel was mounted behind the spiral because the front was too crowded because of it's extended curved infeed.
The Ryson Engineering Department designed a tubular welded panel mounting plate coming off the base of the spiral. The spiral is also outfitted with motorized rollers at the infeed and outfeed transitions and is reversible.

If you would like more information on the custom prewiring and controls options, please visit ww.ryson.com or download some literature.