Spiral for Brewery: We just shipped one of our Mass Flow Spirals to Canada for our Integrator partner Gebo Cermex Canada. The model 1900-400 is being installed at a brewery and will be handling full glass bottles of beer at a rate of 900 bottles per minute. This unit is designed to run around the clock and can handle up to 3,600 lbs. of product.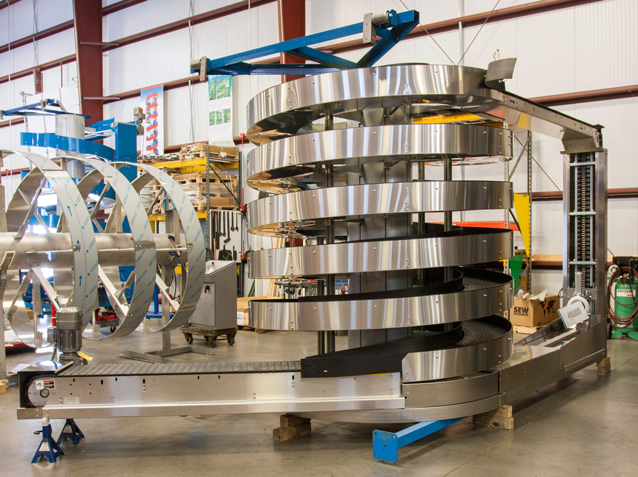 As you can see from the picture, this spiral for brewery was built with a custom infeed/outfeed tangent angle, which was tailored to the Integrator's layout. The unit was built as our hybrid stainless steel design with wash down capability and had a pre-wired motor disconnect to reduce on-site electrical implementation time.
The Ryson Mass Flow Spirals are ideal for canning and bottling operations where units need to be conveyed vertically in mass. Products are conveyed up or down in a continuous single file or mass flow at a rate of 2000 units per minute. Ryson Spirals have a small footprint and provide considerable space savings compared to conventional methods. They are available in powdered coated carbon steel, stainless steel and washdown versions.
The Ryson Mass Flow Spiral conveyors are becoming increasingly popular in the beverage bottling industry.  If you would like more information about our mass flow spiral conveyors, visit www.ryson.com, or watch the video below. You Can also read more Mass Flow application stories on our weekly blog.