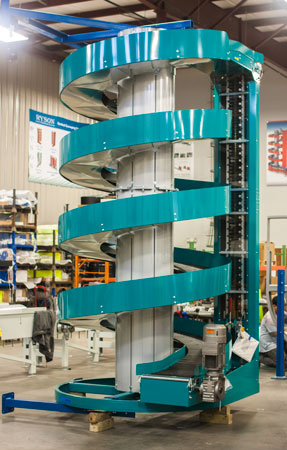 Custom Configurations: This week we are shipping a spiral ordered by our integrator partner INNOVATIVE HANDLNG SYSTEMS.  Their client, needed to incline cases of distilled spirits from the ground floor to the second floor. Due to the building floor steel support structure, they were limited on the size of the floor opening that could be made, ruling out the use of an inclined belt conveyor.
Due to the height restrictions, the spiral was built in two sections to allow rigging the upper spiral section up through the floor opening, then moving the lower section in place under it.
Our technician will be sent to the site to assist in splicing the two sections back together and overseeing start-up and maintenance training.  The proprietary modular design of the Ryson spiral allows design flexibility and can be applied in places where finding space is a challenge. Read more stories on the Ryson Blog about how our modular design can aid in custom configurations to facilitate challenging installations.