The Super Compact Narrow Trak Spiral Conveyors are ideal for smaller sized loads. This week we're shipping two 1200-230 Narrow Trak spirals and a case spiral (1300-400) to a Canadian Brewery for our Integrator Partner LaGrotta Packaging.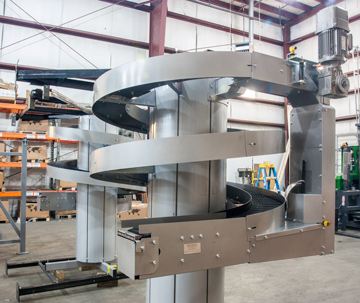 The Integrator's application of our Narrow Trak Spirals save space by eliminating the need for an incline belt conveyor and will reduce implementation costs, as the spirals ship totally pre-assembled. The tight layout of their production area made the very small footprint – only a 4'9″ diameter – of the NT an ideal candidate.
One of the Narrow Trak (NT) spirals will be inclining HiCone 6 packs and the other 8-packs of shrink-wrapped beer cans from the packaging area.  The spirals will be running at 95 FPM, handling 20 units per minute and will discharge at an elevation of 7'-0". Both lines will feed tray packers that discharge to the case spiral which sends them back down to the Palletizing area.
The Ryson compact Narrow Trak Spirals offer a significantly larger elevation change capacity than what is currently available in the small package marketplace. They are also a good alternative to side gripper conveyors because they can run at high speeds and do not need to be adjusted for varying product sizes. The Narrow Trak Spirals are especially beneficial for the food, beverage, pharmaceutical, nutraceutical, personal care market and food product companies.
For more information on the Narrow Trak Spiral models, visit www.ryson.com, download our product information or read more Narrow Trak application stories on our weekly blog.