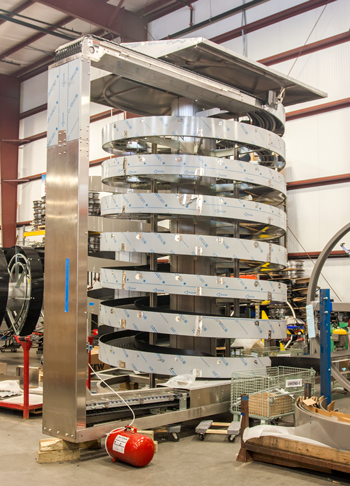 In the next few weeks we'll be shipping two custom Mass Flow spirals with some special design features.
These two stainless steel hybrid spirals will work as part of the bulk de-palletizing system for a major brewery.
The special design features include a top canopy cover and removable clear lexan side guard extensions to keep dirt and debris from entering the bottles during their transport to the filler.
They will raise and lower empty glass bottles at rates exceeding 1,100 per minute. The elevation change on this 1900-400 model spiral is 13 feet and is made of components designed to handle wet environments.
 Our Integrator Partner, Gebo Cermex Canada, specified Ryson to their customer based on our reputation in the mass flow spiral market, where we have many project sites in North and South America handling bottles, cans and jars in mass.
If you would like to learn more about our Mass Flow Spiral Conveyors, visit www.ryson.com. You can also read more stories about custom solutions on our weekly blog.