Brewery Spiral Conveyor: Last week we shipped this Mass Flow Spiral Conveyor to a Brewery. It will deliver bottles from a bulk depalletizer and discharge them to the filler at floor level.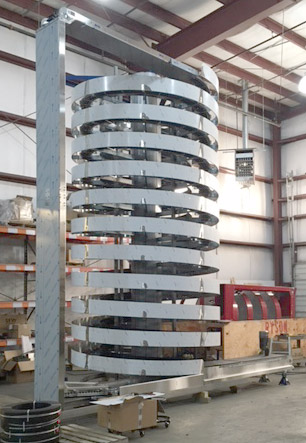 This model 2300-500 spiral features a 20" wide slat surface and is our hybrid stainless steel version. The spiral is 22'-0" tall and has a load capacity of 3,600 lbs. It will be used for declining empty 12 ounce glass bottles in mass at 1,380 bottles per minute.
Our in-house controls department pre-wired the spiral with a local control station and motor disconnect switch to reduce the implementation time of installation.
Other special design specifications were added, including optional bearing brand, a missing slat detection system and the customer's  motor/gearbox preference.
This wide-body spiral was designed to ship on a flat-bed step deck trailer to minimize the degree of dis-assembly required for shipping purposes. Our service technician will be on site, assisting the riggers and millwrights in installing the spiral.
Our Systems Integrator partner for this project is Foth Production Solutions. For more information on the Ryson Mass Flow Spiral Conveyor and some other typical applications, visit www.ryson.com, or you can read more installation stories from our blog.