This week we shipped a repeat order for 4 large stainless steel Bucket Elevators. The largest units have six inlets at the lower level and two outlets at the top, which can be individually activated. The tallest unit is 36 feet tall.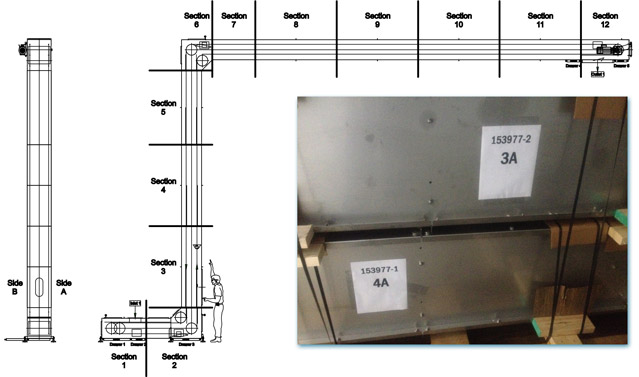 The Bucket Elevators had to be shipped in sections to accommodate shipping. Each segment was carefully match-marked and documented to assure a fast and easy installation upon reassembly. The proprietary modular design of the bucket elevators allows Ryson to pass the ease of reassembly to the end user.
The Ryson Bucket Elevators are designed to withstand many years of heavy duty operations. Our Bucket Elevators are customizable with  multiple inlets and outlets with selective bucket tipping capabilities. The last tipping ramp stays in a fixed position to assure that all buckets are emptied. The bucket elevators combine vertical and horizontal transportation of bulk material in one integral unit. Their modular design and rugged construction make them suitable for a wide variety of applications. Choose from powder coated carbon steel, stainless steel or washdown versions. For more information, visit www.ryson.com.