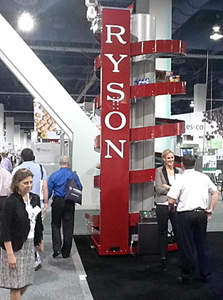 Pack expo 2011 is a hive of activity. Attendance is up and the Ryson booth is busy as ever.
The spiral conveyor is getting increased attention at the packaging shows and our shiny stainless steel mass flow spiral conveyor is a huge attractor, moving bottles of beer up and down.
Our tall red vertical case spiral can be seen from much of the south hall. Because it's running, it always stops people in the aisles. It is running an assortment of packaged products that illustrates the diversity of its conveying capabilities.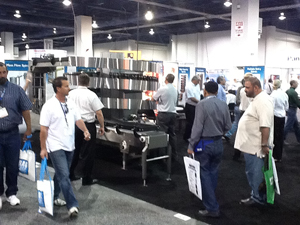 One of our integrators, Arrowhead Conveyor Systems, also featured a Ryson Spiral Conveyor in their booth. It was in a system loop where a robotic depalletizer feeds packages to a down spiral. A conveyor then brings them to the palletizer. It was a nice display illustrating how a spiral can facillitate a packaging line.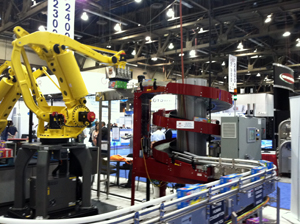 PackExpo is a great show for Ryson and we find it gratifying that customers visit us to express their satisfaction with our spiral machines. We are also taking a support role for our integrators, when they bring their customers to our booth to show off our spiral technology. For more information on Ryson's vertical conveying solutions, visit www.ryson.com