Bag Handling Spiral Conveyors: Most people think of cases and totes being handled on our Unit Load Spirals. They are also very capable of handling large pales and bags. This week we're shipping four new spirals to elevate 25 and 50 lb. bags of powdered baking mixes.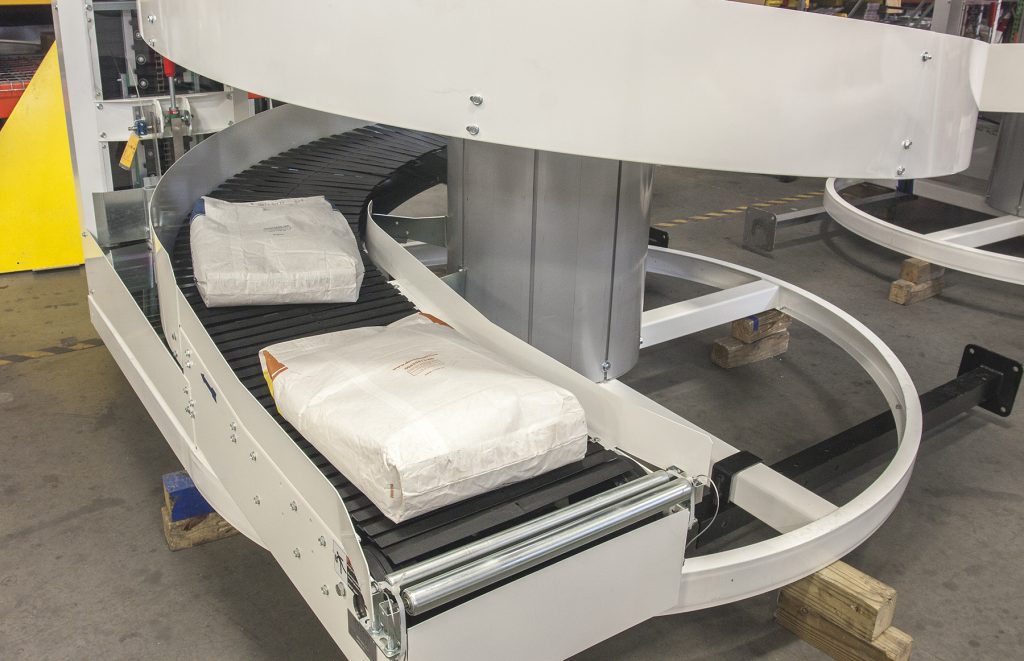 Our Integrator Partner, ProVantage Automation specified four of our model 1600-500 Unit Load Spirals to incline the bags to an elevation of 11'. These bag handling spirals were the best value in saving floor space and are robust enough to handle the heavy loads. They will be used to feed conveyors that supply the bag palletizers in another area of the plant. The spirals shipped totally pre-assembled, reducing on-site implementation costs.
Ryson's innovative slat belt can handle such heavy loads because it enables a low friction operation without any sliding movements or wear-strips. The slats are supported by precision steel roller bearings which ride on a polyurethane surface. This design effectively takes up the side forces created by a tight radius and at the same time increases the load carrying capacity of the chain up to 75 lbs per linear foot. This design facilitates high speed, low noise, low maintenance and long life, which ultimately helps lower your overall cost of ownership.
If you would like more information about Ryson Unit Load Spiral Conveyors, visit our spirals page, download the brochure, or read more application stores on our weekly news blog.