Yes. When it comes to material handling solutions, Ryson stands out for its versatile and customizable Spiral Conveyors.

Our Spiral Conveyors have revolutionized the way industries transport products vertically. What sets Ryson's spiral conveyors apart is the remarkable degree of customization they offer to meet the unique needs of various applications.
Modular Design
Ryson's spiral conveyors are renowned for their modular design. This feature allows for easy, and cost-effective adaptation to specific requirements. Whether you need to integrate the spiral conveyor into a compact space or require multiple entry and discharge points, their modular design allows them to be built to order. Our Bucket Elevator can also be customized to have multiple infeed and discharge stations or a specific hight.
Direction of Vertical Transport: Up or Down, Your Choice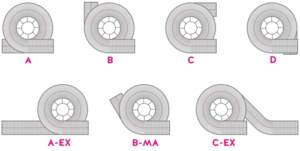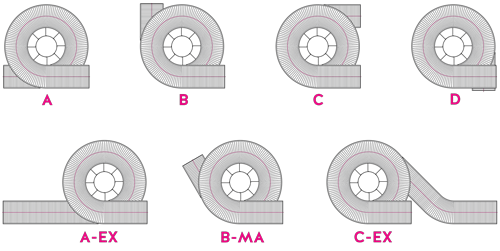 One of the standout features of our conveyors is their flexibility in terms of vertical transport direction. These conveyors can transport materials either upward or downward, clockwise or counter-clockwise, making them ideal for multilevel facilities. They can also be configured to be reversible. Whether you're moving goods from ground level to a higher elevation or bringing them down from a mezzanine, or using them for vertical accumulation, our spiral conveyors are up to the task.
We understand that every production facility has its unique layout and workflow requirements. That's why our spiral conveyors are available in different configurations and slat widths. This versatility ensures that the conveying lines align seamlessly with the flow of materials within your facility, optimizing efficiency and minimizing disruptions.
Angle of Incline
Each Spiral has a custom angle of incline. This is especially important when dealing with products that require a specific slope for reliable transport. Whether you need a gentle incline for less stable items or a steeper angle for more efficient transport, Ryson's spiral conveyors can be fine-tuned to your exact specifications.
Infeed and Outfeed Tangents: Seamless Integration
The infeed and outfeed tangents of a spiral conveyor play a crucial role in optimizing your layout. We understand that no two production lines are the same. That's why we offer customization options for these tangents, making it easier to integrate a Ryson Spiral seamlessly into your workflow. Whether you require a straight-line approach or a curved path, Ryson has you covered. They can also help reduce your required number of ancillary conveyors, saving installation time and implementation costs.
Infeed and Discharge Height
Achieving the right infeed and discharge height is essential for optimizing material flow and minimizing the risk of damage. Each Ryson Spiral is custom built to precisely match the elevation requirements of the rest of your conveying line.

Color and Coating: Aesthetic and Functional Customization
We know that aesthetics matter in many industries. That's why our spiral conveyors come with custom color options – Whether you wish to match your corporate identity or blend seamlessly with the rest of your facility's equipment. Additionally, we offer various coating options for specific applications – Powder coated carbon steel or wet environment stainless steel – ensuring that your conveyor is not only visually appealing but also built to withstand the demands of your process.
Speed of the Conveyor: Control in Your Hands

Control over the speed of material transport is vital in many applications. Ryson's Spiral Conveyors offer variable speed options, allowing you to fine-tune the conveyor's pace to match your production requirements. Whether you need slow and controlled movement or a faster pace for high-throughput operations, Ryson gives you the flexibility to set your optimal speed. Most Ryson Spirals are capable of speeds up to 200 FPM.
With Ryson, you're not just getting a conveyor; you're getting a customized solution that perfectly aligns with your needs and throughput objectives. They can also help lower your overall cost of ownership, with their impressive longevity and uptime.
Read more about typical applications in different industries, or read more application stories in our weekly blog.