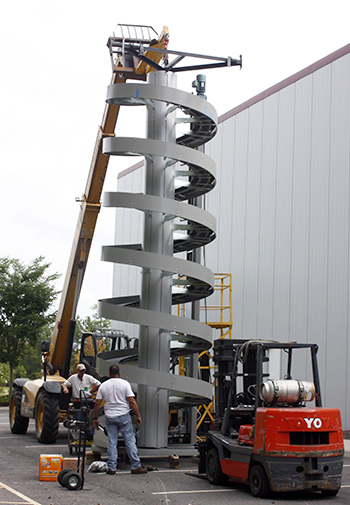 All Ryson Spiral Conveyors are shop tested in our manufacturing plant prior to shipping. This includes running them for 8 hours at the customer specified speed. This ensures that when a Ryson Spiral Conveyor arrives on site,  it is ready to run. Most Ryson Spirals are assembled and shipped in one piece, drastically reducing time and cost of installation.
Our manufactuging facility has enough headroom to stand spiral conveyors that are up to 27 feet in height. Taller spirals need to be tested outside. That was the case with one of our High Capacity Spirals we shipped to a customer the other day.
It may seem a little extreme, but it is part of our commitment to quality of product and satisfaction of customer.
Read more about the Ryson High Capacity Spiral Conveyor. You can also read more service related stories on our weekly blog.