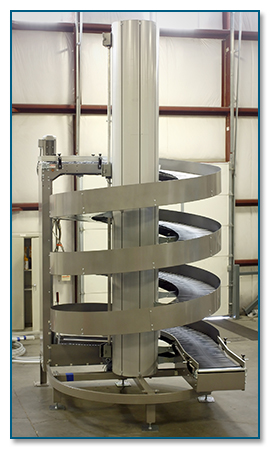 The modular design of the Ryson Spiral Conveyors allow for many aspects of each spiral to be customizable, both at the time of manufacturing and later as a retrofit or repurposing.
On a current project, the modular construction of our vertical lifts allowed a major food manufacturer to order a spiral for an immediate need while being able to anticipate upcoming changes in their packaging line.
The Systems integrator (Brenton Engineering) asked us to build the spiral in our "B" configuration to discharge at 11'-0" and had us manufacture the spiral with an extended center tube for a future change to  a 16'-0" discharge elevation. As an option with all our spirals, Brenton Engineering had us pre-wire the machine, anticipating the future change in elevation of the motor. The spiral included a Ryson stand alone control package.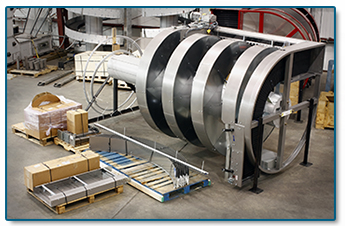 The "repurposing kit" will ship with the spiral conveyor including all the parts necessary to change the elevation and shift from our "B" to our "A" configuration. The ability to re-purpose the spiral on site within 12 months saved their client a considerable amount of time and money. Having the kit on hand allows the customer to perform the change on short notice.
Read more about repurposing spiral conveyors, or you can download a Ryson Spiral Conveyor information sheet here.