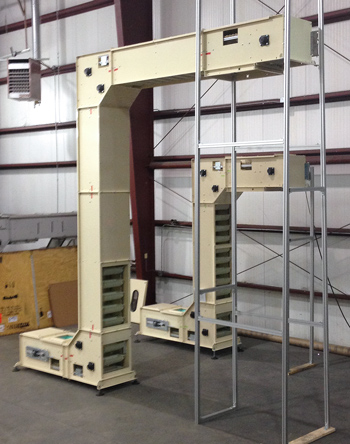 Ryson Bucket Elevators used to streamline a high-volume corn seed processing facility in Mexico.
Productora Agrícola Cuachiqueh SPR de RL de CV — AKA 'Novasem' — is a leading producer of seed corn in Mexico and has chosen the Ryson Bucket Elevators as the solution for their new processing facility outside of Guadalajara Mexico.
They have purchased 12  model Z-200 bucket elevators with a combined capacity of over 200,500 lb/hr. The bucket elevators range in heights from 10 ft to almost 70 ft, each one fabricated with specific inlet and out lengths designed for each part of the overall process. The first units are shipping this week with 2 more leaving the Ryson facility each week until complete. The new facility plans to be fully operational before the end of the year.
The bucket elevators utilize the FDA approved pivoting buckets moving through a fully-enclosed structure of powder-coated steel. The Ryson Bucket Elevators combine vertical and horizontal transportation of bulk material in one integral unit and they can have multiple inlets and outlets. Their modular design and rugged construction make them suitable for a wide variety of applications. For more information on the Ryson Bucket Elevator, visit www.ryson.com or watch the video below.