The Ryson High Speed Rotator is an innovative conveyor for in-line rotating of cases and other unitized loads.
The Ryson proprietary chain slat arrangement can become a versatile and flexible slat conveyor when used outside the frame of a spiral conveyor. With the Slat Conveyor, only one drive is required for up to 250 feet of conveyor, which minimizes the number of transition points required. This also significantly reduces the cost of controls and system integration.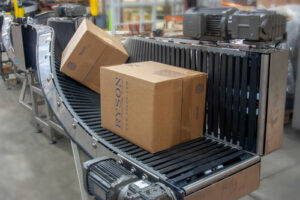 The Ryson Rotator is essentially multiple slat conveyers that twist. This assures a smooth contact point all the way through the turn. The loads can be rotated 180º or 90º in a continuous motion. This  slat conveyor is used in packing lines where products need to be rotated upside down or to one side without delay or product damage, The Ryson High Speed Rotator can accommodate a wide range of load sizes without adjustment or change parts.
Some common applications are things like labeling the underside of a container, or assisting in case emptying, or loading.
Watch the demo video below to see how the Ryson Rotator handles a sample. You can also read more about our High Speed Rotators and Slat Conveyors in our weekly news blog. Check out some other application videos on our own YouTube Channel!